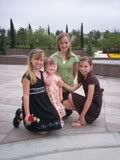 So, I decided I'm going to try this. Hopefully blogging will help me with family history and journaling. I type much faster than writing and hopefully there is spellcheck.
Yesterday was a big day for Kiersten. She did a 5 minute oral presentation in English. Big accomplishment for a shy girl. She also was voted "7th Grade Dancer of the Year" by her teammates. The best part- they all cheered and clapped. It has been a rough year full of great victories for her. Also, this morning besides an award for High Honors, she recieved an award for Excellent Citizenship from the visual arts program. Her teacher, Mr. Bishop, made a big deal about how she is the most kind, most curtious kid he has EVER had in his 18 years of teaching. That when he first started the year he thought it was a joke that a jr. high kid would say "thank you" everyday. He said he made a point to watch her carefully and realized she was "for real!" Then he bowed to her and told everyone to clap for "one awesome girl!!!!"
Today is Sadie's last day in Early Start Preschool. She turns 3 on Sunday and I have mixed feelings about it all. I can't believe it's been 3 years. It's been quite the journey. I'll write more on that later. We are off to watch them sing "Happy Birthday" and wish her well. I'll post pictures later.
We're back from ICEC and it wasn't as hard to leave as I thought. Probably because we will be back next Thursday and a couple more times for make-ups. I once got a little teary eyed when they sang, "butterfly". It reminded me of the story "Parable of the Butterfly". I'll find it later and post it... but it shows us how even though it is hard to watch our kids struggle and work hard, it is necessary for growth. It takes hard work to become a beautiful butterfly. My little Sadie is sprouting wings before my eyes- she is on her way to becoming a beautiful butterfly!!!