Sunday, September 14, 2008
This article was written by: Victoria Macdonald
and was published in The Observer, Sunday September 14 2008
Down's tests are great risk for all babiesScreening for syndrome puts healthy foetuses in danger of being miscarried, new research shows
Victoria Macdonald The Observer, Sunday September 14 2008 Article historyRisks in screening unborn babies for Down's syndrome are far higher than previously claimed, new research will say this week. For every three unborn Down's syndrome babies prevented from being born, two healthy babies will be miscarried because of the methods used to detect the condition.

The research claims that, in detecting and preventing the birth of 660 Down's babies, 400 healthy foetuses are lost.

The research casts doubt on the advice and risk assessment given to women when they are deciding whether to undergo the screening and subsequent testing to assess the health of an unborn baby. The National Health Service currently cites a miscarriage rate of between 1 and 2 per cent following the invasive amniocentesis and chorionic villus sampling (CVS) tests, which are offered to expectant mothers who are considered to be 'at risk'.

The authors of the paper - which is being published in the Down's Syndrome Research and Practice journal - say that, while the number of pregnancies diagnosed with Down's syndrome that are terminated, miscarried or born are recorded, no analysis has ever been attempted to determine the number of non-Down's babies lost.

The authors are from the charity Down's Syndrome Education International and might therefore be accused of pursuing their own agenda, but the research has been shown to a number of screening experts who have assessed the findings. In a film to be screened on Channel 4 News at 7pm on Tuesday, Professor Kypros Nicolaides, head of the Harris Birthright Centre at King's College Hospital in south London, will say it is 'completely unacceptable' to lose this number of normal babies.

'Our aim must be to improve the detection of foetuses with Down's in those women that want to have a test and dramatically reduce the number of normal babies that are lost as part of this process of screening,' said Nicolaides, who has been a pioneer in the use of ultrasound for improving screening.

The authors of the study - Frank Buckley and Professor Sue Buckley, a director of the charity who also works at Portsmouth University's psychology department - blame false screening results in the initial blood testing and then the use of subsequent testing, which involves inserting a fine needle through the woman's abdomen and either withdrawing amniotic fluid or taking a tissue sample.

To detect as many Down's babies as possible, the initial screening threshold is set wide, which means that more than 95 per cent of women defined as 'high risk' will not be carrying a baby with the disorder, yet most go on to have the amniocentesis or CVS tests.

The Buckleys and Nicolaides are particularly concerned about how well qualified the staff are who carry out the invasive testing and about their ability to use ultrasound. Studies in the past have shown that loss rates following amniocentesis are six to eight times higher among inexperienced practitioners.

Because no records of non-Down's baby losses have ever been kept, the Buckleys say that their ratio of three to two can only ever be an estimate. But their methodology appears to have been broadly accepted.

'We are looking at the wider question of public health policy,' said the Buckleys. 'The screening for Down's syndrome has consequences for every pregnant woman. You cannot look at it as just a search-and-destroy mission focused on babies with Down's alone.'

About 750 Down's babies are born every year in England and Wales and the Department of Health said the primary aim of screening for the syndrome was to help women make informed decisions about their pregnancies. A spokesman said the programme was based on the latest evidence and supported the most effective test in terms of both the detection rate and the aim of lowering the screen-positive rate 'in order to minimise the number of diagnostic tests'.

The National Institute for Health and Clinical Evidence has recommended a new 'combined screen', which is meant to be more effective in assessing who is at risk, but this has yet to be rolled out nationally.

The Down's charity has now written to the government asking for a thorough reappraisal of the 'purpose, performance and safety' of the screening programme.

· Victoria Macdonald is social affairs correspondent for Channel 4 News.

THE SAD THING ABOUT THIS... I KNOW THERE IS SUCH A LONG WAITING LIST IN THE US FOR ADOPTING KIDS WITH DS. I WOULD LOVE TO SOMEDAY ADOPT ONE- DON'T KNOW IF IT WILL EVER BE RIGHT FOR OUR FAMILY- BUT, IF THEY ONLY THOUGHT ABOUT CARRYING THE BABY TO TERM AND ADOPTING THEM OUT. AND ALL THOSE BABIES LOST TO INCONCLUSIVE TESTS!!!! WHAT A SHAME!!!
Posted by

Kari
at 5:22 PM
2 comments:
Links to this post

Sunday, August 24, 2008
I'm trying not to freak as we get Kiersten ready for her first day of High School tomorrow! I have a four year old... how can I possibly have a high schooler also??? This summer has been great for her. We started out spending time with our friends in Utah only to rush back and get ready for Trek. They spent 3 days, in period clothes, pulling a handcart and living the life of a pioneer. Within a week after coming home from trek Kiersten packed up to go to EFY (Especially For Youth) a church sponsored week long conference for boys and girls 14-18 years old. EFY was life changing for Kiersten. Not only were they fed spiritually, they met a lot of new friends and they were taught how to safety and correctly interact with boys. The boys escorted them to every activity, joined in on Morning devotionals, and danced with them at two dances. Immediately after returning from EFY I got Kiersten unlimited texting (this for a girl who has had her phone for two years and has only used it a dozen times - to call me). She hasn't stopped texting since. I know she is keeping in touch with a few boys from EFY. She has gone to the last three youth dances and spent the last week at girl's camp. I am amazed at how much she has grown this summer. So, she has a new dew, unlimited texting and her dancin' shoes on... I think my baby is ready for High School. But don't let her new found social skills fool you- she is still totally academic. She will be taking all honors class, Spanish, Seminary and Alg. 2 Trig. Yikes!!! Wish me luck :)
Posted by

Kari
at 1:37 PM
2 comments:
Links to this post

Saturday, August 16, 2008
I found this post on Downsyn.com and asked if I could post it here. Love, love, love it!

LANGUAGE CAN HURT

We are moms of young children with developmental disabilities. We are your neighbors, your friends. We see you at baseball games, shopping, church, and the movies. When we think of our children, we use words like "beautiful" and "adorable."

But often we hear words that hurt, words like the R-word, "retarded."

People often use the R-word casually to insult and denigrate another person. Because the word is used in those ways, it's easy to understand why as mothers we are hurt and concerned when we hear it. Over the years we have wondered about (and dreaded) the day when our children would come home after hearing and understanding the insinuation behind someone's use of the R-word.

The casual use of the word is so common that a week doesn't go by that we don't hear it. Every day we are reminded that our children are becoming more aware of their differences and so too are their peers. That day we've dreaded is fast approaching.

When famous movie stars, celebrities our children already know and love, take a hurtful word and tie a funny punch line around it, we need to worry about the fallout. That's why we're asking you today to think about the R-word, and the impact it has on the people around you, including our children. And we'd like you to consider a new R-word, RESPECT.

On behalf of our children, we thank you for reading, and for your thoughtfulness

Written By: Nancy Reader copied off of Downsyn.com



Posted by

Kari
at 4:23 PM
No comments:
Links to this post

Tuesday, August 12, 2008
I've been thinking a lot of an experience I had just after the birth of Sadie. Three of my friends came to visit me in the hospital. They all sat at the end of my bed admiring Sadie and looking forward to the births of two of their children in the following few weeks. I felt the time was right and I just blurted out, "She has Down Syndrome". What happened next has been one of the best lessons I have ever experienced.

My friend Kay, who had 3 children and was expecting her 4 in the next two weeks and who grew up with two deaf parents, exclaimed, "Oh, she's so cute... doesn't she have the cutiest toes? It looks like she is giving us a peace sign, " (because of the big gap). She just kept talking and talking about everything... I wondered if she had even heard the news I had just given her.

My friend Alison, who was expecting her first child the next month, sat there with a with a deer caught in headlights look. I don't think she said another word and I was sure she was lost in thoughts of, "if Kari didn't know she was going to have a kid with ds... what about ME?"

And then there was my sweet little friend Ayumi she sat there with tears in her eyes, got up and hugged me and started asking questions about what was next and about her health.

Everyone had a different reaction. I believe those reactions were all born from different experiences they had in life. Each had different upringings and and different personalities. All three were there in the room with me at the same time hearing the same things; but, each of them heard it differently. Kay lived around disabled people all her life. She knew that things would be just fine. She was there to celebrate a new life. Alison was newly married, expecting her first child. They were perfect and nothing seriously life altering had ever happened to her. Ayumi, she grew up in Japan. She grew up in a society where people with disabilities are hidden, killed or shipped away.

I learned that day that I could never control how others reacted. I needed to look beyond their reaction and wonder... why do they think that way? Now today, when we are out and about, I often see how people react to Sadie. Sometimes they turn their heads. Sometimes they look at me with pity. But most of the time, they smile. They see how happy we are. They see the joy and love Sadie brings to our family.

I can't control how others feel. The only thing I can control is my own thoughts and emotions. I can however, hope that maybe as we fully accept and rejoice in our litte ones others will see their beauty and worth. And if not- it won't change how I feel one bit!!!


Posted by

Kari
at 7:18 PM
4 comments:
Links to this post

Saturday, July 26, 2008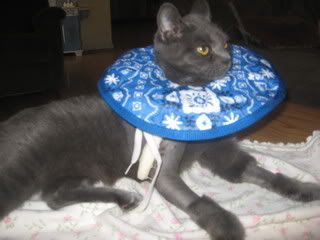 I haven't posted this yet because it has been really hard on our family. I think it is why I have gone kinda crazy manic (not that I'm bi-polar- but I feel like it)
My cat Ella was shot by a bb gun last Thursday July 17. My neighbor brought her to us and said she had found her and that Ella wasn't putting any weight on her leg. We thought maybe a dog got her because she thinks she can just play around with them.
She ended up with a bb that chipped the bone and cracked it all the way down. They had to do surgery and put in 6 pins to prevent it from breaking to pieces. Besides two surgeries, lots of medications, weekly re-check visits- the worst part is she is going to be crate bound for 6 weeks and under house arrest for 60 days. This cat loves to go in and out and visit. I hope she doesn't get depressed.
Some people have asked me if I know who did it. NO, but my neighbor has a few ideas... and she's out to get them. Unfortunately, it has caused me to question people and be leary of them. I think that is sad. These are people I live with- who share a space with our family. Anyway, I am hoping it was some goofy teenage boy (nothing against boys) that didn't realize the consequences of his actions. ie- the pain, cost and how it has affected the girls.
Just some background- Last year we found Ella in Palm Springs at our house. She lived under the shed and was starving to death. The rest of her litter and mama had been taken to the animal society. I'm not much of an animal person- mostly because they poop- but I was talked into "saving this cat". It was long before I found out she was the most loving, sweet, kind kitty ever! She is determined to have me meet all of my neighbors... because there is hardly a week without someone calling me and telling me she is 1) sleeping with them on the couch 2) out playing with their dogs 3) following their kids home from school or 4) sleeping in their bed! I've even had one call that said you better come get your cat or my neighbor will steal her.
Some of the neighbors even suggested we have a BBQ block party to raise money to go toward the $5,000 it is going to cost us to cover all this (I would never do that- but it is kinda funny they would suggest it) After we brought her home my next door neighbor came over and cried over her crate. I told her that if I ever break my leg she better cry over my bed or I'm gonna get some kind of complex.
Anyway, please pray Ella will heal quickly and not get depressed!!
Posted by

Kari
at 8:45 AM
2 comments:
Links to this post