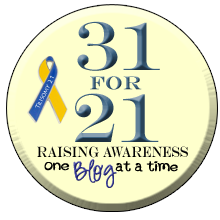 Grab This Button
Today is Day #1 of '31 for 21'. I will try to blog all 31 days of October (which happens to be Down Syndrome Awareness Month) and use this time to blog/brag about our life loving someone with an extra 21st chromosome! During the 6 1/2 years Sadie has been in our family we have had many ups and downs (no pun intended). Seriously, she has fought for her life, we have spent countless days at therapy and Dr. appointments, and we have felt left behind while her peers soared past her in development. However, we have spent more of our time watching our little girl prove her worth, accomplish what we believed unobtainable, and gain respect and love from all who know her. My goal this month is to give you a glimpse in our family and help you understand how Down Syndrome is a hurdle and not a road block. How, even though her journey may be different and a little longer, Sadie can learn and will be successful!
So, I've been dying to share a story from yesterday...
I remembered that Sadie was scheduled to attend the
bookfair
but had forgotten to send money for her. I was sad but wanted to know if she was disappointed.
Me: "Sadie did you go to the
bookfair
today?"
Sadie: "
Ummm
, no... I no have money and one of my parents isn't here. I know, I go get my McDonald's and get a book."
Me: "You are awesome!!" HIGH FIVE & HAPPY DANCE!!!
OK.. here's why I am
soooooooooooo
excited about this little exchange.
1) she remembered and understood the two reasons she was unable to get a book at the
bookfair
(I have an 11 year old who doesn't get that)
2) She made a solution!!!! She thought since she didn't have money at school she could go home and get some money (SO WHAT IF it is play money?) out of her
McDonalds
cash register.
This is so awesome! I remember 3 years ago when we would ask her how school was and her answer would be something like, "backpack" and when we asked again she would say, "bus.. yellow". Now she is
rockin
it and telling me what happened, why she couldn't do it, and how she was going to solve it!
Reason #1 why my kid with down syndrome is awesome- she will learn, in her own time, and we will stop, high five her, and do happy dance!!!!!